Heat insulation of any surface Insulating paint
Isollat confirmed the eco-certification "Leaf of Life"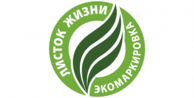 Quality and safety of our products is our first priority. That is why, in addition to mandatory certification, our company also pays attention to voluntary certification. In this way, we not only meet the necessary product safety requirements established by law, but also impose additional requirements on the environmental safety of products and strengthened requirements for the production process.
The annual audit for the "Leaf of Life" eco-certification was recently completed.
"ISOLLAT-01", "ISOLLAT-02" and "ISOLLAT-03" confirmed the full compliance with high requirements of the environmental certification STO-56171713-021-2019 "Paint and lacquer insulating material. Ecological safety requirements and assessment methods".
The products of our company are absolutely safe for people.
Packaging is recyclable by the methods available on the territory of the Russian Federation.
More than a half of production wastes we pass on for recycling.
Besides, we take care of working conditions of our employees by automating harmful production processes.
Our company is one of 7 manufacturers of paint and varnish materials in the Russian Federation whose products have been awarded the "Leaf of Life" ecolabel.