Heat insulation of any surface Insulating paint
Kia Carnival Series Tuning with Isollat from Timboga, Boga Co.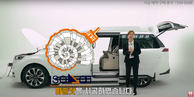 Timboga, Boga Co., Ltd. and KIA recently unveiled a new and improved BOGA9 luxury limousine based on the Kia Carnival, which will go into production. A fifteen-minute promotional video https://www.youtube.com/channel/UCp1Chx8J35HnEqw3a8ZP4Pw details all of the improvements, including the insulation of the car's interior with ISOLLAT.
Our liquid ceramic thermal insulation is presented here as the best liquid insulation in the world, allowing to prevent the formation of condensation and corrosion, reducing heat and fuel losses, as well as providing vibration and noise insulation.
Not the first year ISOLLAT is widely used on the car tuning market in South Korea. It has established itself as a reliable, modern insulation material that meets all the criteria of the industry.