Heat insulation of any surface Insulating paint
Special Technologies LLC is the winner of the Sverdlovsk Region Exporter of the Year 2023 competition in the field of high technologies!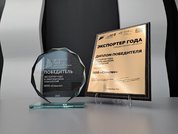 The award ceremony of the Sverdlovsk Region 2023 Exporter of the Year was held in Ekaterinburg in the Domna creative cluster. Companies from the non-resource, non-energy sector that showed the best experience in export activities were presented at the contest.
The regional stage was organized by the Government of the Sverdlovsk Region, the Ministry of Investment and Development of the Sverdlovsk Region and the Sverdlovsk Regional Entrepreneurship Support Fund (SOFPF, on the basis of which the regional My Business Centre was established).

Special Technologies LLC received an award in the nomination "High Technology Exporter of the Year". Fruitful work on realization of projects on export of products in more than 60 countries of the world, including: India, Iran, EAEU countries, EU, Middle East and even Africa, was recognized by JSC "Russian Export Center" with a high award.

At the moment, in addition to the basic thermal insulation materials, we have launched the process of promotion of new developments to international markets: non-stick coatings for metallurgy. We see high export potential in the realization of this direction.

Despite the instability of the global market, the current situation provides new opportunities for growth. Adaptation of business processes in the situation of uncertainty and instability is going rapidly, our company is steadily increasing export volumes, promoting Russian-made products to foreign markets and finding new partners all over the world. At the contest Special Technologies LLC showed itself as a company with one of the widest export coverage.

The victory in the nomination "Exporter of the Year in the sphere of high technologies" shows that the task of promotion of domestic innovative developments to the market has been achieved. Today we do not sell our knowledge to foreign companies, we sell for export ready-made, high-tech, environmentally safe, high-quality products of our own production. We work for the benefit of our country and our economy. We continue to improve technologies, maintain consistently high product quality and look for new ideas for creating products.